Check out the new stuff! Text your hold requests to 314-399-9339 and include your name.
2nd Shift Dry-Hopped Katy Is Back!
And the ONLY place to get it is right here.
Stillwater Nu-Tropic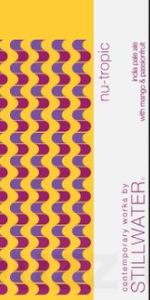 IPA berwed with mango and passionfruit. In cans.
Avery Expletus – Limit one per person
Ale Aged in Tequila Barrels with Cherries Added.
New CANS from Evil Twin!
Evil Twin Imperial Biscotti Break Imperial Stout with Almond and Vanilla – Limit one 4-pack per person
The Roman Empire had a certain 'je ne sais quoi' – festive food culture, extravagant architecture and spectacular live entertainment. Some might argue the Emperors were brutal, mad and hungry for power, and the people vain when taking baths and working out all day. Listen – that's still all part of the secret Imperial ingredient – keep it cool, clean, confident, arrogant and flamboyant. Forza Imperiale. And everyone likes it in the can, right?
Evil Twin Even More Jesus Imperial Stout – Limit one 4-pack per person
A few times in the history of craft beer it has happened that a highly praised beer rises beyond mortal stardom into a higher godly league. Usually the recipe to make such heavenly drops is thick fudge-like body, pitch black color, amazingly overwhelming aromas of chocolate, coffee, dark fruits and muscovado sugar, obviously only made in limited amounts and most crucial of all – it must taste rare!
Evil Twin Imperial Simcoe Slacker 
Despite his bitterness, lack of power and insuperable aversion to any over-the-counter labor- he kind of has a charming charisma, and perhaps he is even lovable. Somehow we find him unbelievable irresistible and stimulating because he is one of the few that masters the ability to effortlessly impress with wide-ranging conversation even though he was not even supposed to be here today.
Evil Twin No Hero Oatmeal Stout
An alien-like outsider, always flirting with oddity and exploring anxiety and paranoia. A style chameleon, a wonderful labyrinth and truly a transcendent genius. It's impossible not to idolize out of proportion. This is a stout. It may not be a hero, but it's attractive, clever and hungry for stardom.
Evil Twin AÚN MÁS A JESÚS – Limit one per person
On a pilgrimage for immortal craft beer we tripped on these heavenly drops of amazingly overwhelming aromas, a thick fudge-like body, pitch black color and obviously only made in limited amounts. And the taste…. even more jesus!
Evil Twin Wet Dream
This is truly a beautiful brown ale boosted with a delightful aroma of citrus, spice and gourmet Keini, Kenya Beans from The Coffee Collective, Copenhagen – the result is amazing, lusty and incoherent – yes, it's your wildest desires in a bottle. Close your eyes and let the drops do the talking. Enjoy y'all.
Sierra Nevada Hoptimum – LIMITED
Hoptimum is a hurricane of whole-cone hop flavor. Hopped, dry hopped and torpedoed for incredible hop flavor and complexity, Hoptimum is the pinnacle of whole-cone hoppiness and the biggest Imperial IPA we have ever produced. It features resinous hop varieties: Magnum, Chinook, Simcoe and a new experimental hop variety exclusive to Sierra Nevada. With intense hop flavors and aromas of grapefruit rind, pine, herbs and tropical fruit, Hoptimum is an aggressive drinking experience. Originally created as part of our Beer Camp program, Hoptimum throws down the gauntlet to all other IPAs.
Scaldis Peche Mel
The ingenious combination of the classic Scaldis Amber and peach juice, Scaldis Pêche Mel is a deliciously drinkable beer with a heady aroma of peach, a well-balanced malt character and a surprisingly dry finish. Based on a drink made by Belgian students combining peach Lambic and strong Scaldis, Pêche Mel redefines what a beer with fruit can taste like. Dubuisson's signature yeast gives Pêche Mel a peppery kick, keeping it from tasting too sweet.
Omniopollo Bianca
Gose brewed with rock salt and lactose.
Big Muddy Czech Style Pils