Did you know we do holds? If you see something you like, give us a call and we'll put it aside. All holds are valid for 24 hours. Limit of 1-per customer.
Now to the new-new…
2nd Shift El Gato Grande – LIMITED
Here's a big hoppy IPA that is done the way they should be done and has about four truck loads of hops in it, although it is not very bitter at 74 IBUs. LOTS of Amarillo with a good bit of Citra and Columbus just for a good time.
Evil Twin Aun Mas Chili Jesus – EXTREMELY LIMITED
Aun Mas Chili Jesus is a American Double / Imperial Stout style beer brewed by Evil Twin Brewing in Brooklyn, NY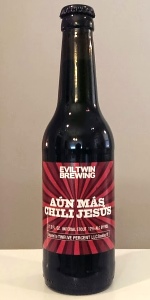 Evil Twin Even More Jesus – EXTREMELY LIMITED
Few times in the history of craft beer it has happened that a highly praised beer rises beyond mortal stardom into a higher godly league. Usually the recipe to make such heavenly drops is thick fudge-like body, pitch black color, amazingly overwhelming aromas of chocolate, coffee, dark fruits and muscovado sugar, obviously only made in limited amounts and most crucial of all – it must taste rare!
Evil Twin / Westbrook Mission Gose – EXTREMELY LIMITED
Effortlessly cool, popping up up in a cultish fashion and constantly on a tasty mission. This is mission Gose: our take on a old-fashioned and slightly odd German style beer that is with good reason trending as the tastiest right now. It's tart, salty, low in alcohol and probably the most refreshing beer you'll have. Perhaps enjoy this beer in a restaurant with a mission near you. Wherever you are we made it stylishly good and exclusively well balanced just for you.
Omnipollo / Buxton Pomperipossa – EXTREMELY LIMITED
A stout brewed with 166 g/l sour cherries. Collaboration with Omnipollo and brewed at Buxton
KBS LOTTERY ON NOW!
Are you one of the very few (yeah, right!) who wants to get their hands on KBS. We are doing a lottery for this bad boy so now's your chance. Enter for FREE here;
http://craftbeercellar.com/clayton/news.php
PLEASE NOTE! Founder's Breakfast Stout and Imperial Stout are on sale NOW! Each 4-pack purchase of these items between now and April 1 gets you an extra lottery entry. Purchase two 4-packs? Get two extra entries.